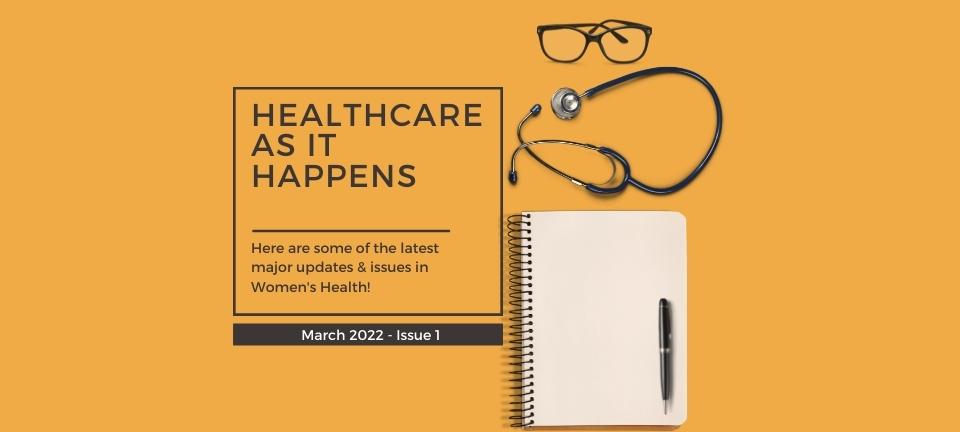 BY Sian Hampson
29 Mar 2022
Healthcare As It Happens – Women's Health
March is Women's History Month, so for our first 'Healthcare As It Happens' blog, we will be focusing on issues and updates in women's health. We have picked five healthcare stories to help keep you up to date with the fast-changing world of healthcare.
Surgery Risks
In early January 2022, several newspapers ran an article claiming that women are 32% more likely to die after an operation by a male surgeon.
The statistic came from a study on health outcomes post-surgery conducted in Canada where 1,320,108 patient records were analysed. The patients had undergone surgical procedures such as hip and knee replacements, weight loss surgery and more complicated operations such as a heart bypass, aneurysm repair and brain surgery, performed by 2,937 surgeons between 2007 and 2019.
The study found that men who had an operation or treatment had the same outcomes regardless of whether their surgeon or doctor was male or female. However, women had a better outcome if the surgeon was female. If a woman was treated by a male surgeon, there was a 15% associated increased likelihood of a poor outcome than if they were treated by a female surgeon. In addition, women experience a 32% higher risk of death when operated on by a male surgeon than those who had a female surgeon.
You can find out more about this headline on BBC Sounds on the BBC Radio 4 show 'More or Less: Behind the Stats'.
You can find out more about this headline on BBC Sounds on the BBC Radio 4 show 'More or Less: Behind the Stats'.
Black Women's Maternity Outcomes
Disparities in maternity outcomes in Black women have recently gained more attention in the mainstream media. Data released by NHS England showed that Black babies have a 121% increased risk of stillbirth and a 50% increased risk for neonatal death, meaning the baby dies within the first 28 days.
Campaigns such as Five X More have campaigned for better maternal outcomes for Black women. In 2020, their petition calling on the government to improve black maternal health outcomes went viral with over 187,000 signatures. This led to the issue being debated in parliament for the first time in history, and the 'All Party Parliamentary Group' (APPG) being created on black maternal health.
Additionally, NHS England has said that "the government's ambition is, by 2025, to halve rates of stillbirths, neonatal and maternal deaths and brain injuries occurring during or soon after birth and to reduce preterm births from 8% to 6% (DHSC 2017)." The government has launched a taskforce to 'level-up' maternity care and close this gap. The new taskforce aims to understand what is causing this gap in outcomes and then tackle the root causes.
Potential trigger warning based on topic
HRT & Menopause
Menopause is when a women's period ends, and they are unable to become pregnant naturally anymore. Menopause is a natural part of ageing that usually occurs between 45 and 55 years of age as their oestrogen level decline. Menopause can cause symptoms such as anxiety, hot flushes, and insomnia. You can use Hormone Replacement Therapy (HRT) to treat these symptoms; a prescription for HRT in England currently costs £9.35 - or £18.70 if two types of hormones are needed. This is often provided on a short-term basis, meaning a monthly payment, or every three months.
Whilst menopause is experienced by half the population there is still stigma and lack of understanding around it. Liz Kendall, MP for Leicester West, described a "terrifying sense of anxiety and panic" after her symptoms started but did not know what was happening. Liz spoke in favour of a bill in parliament for HRT to be provided for free - whilst this did not pass, the government did agree to significantly lower the cost meaning only one prescription a year would need to be paid.
Menopause is starting to be spoken about more with some high-profile campaigners, bringing the issue into the spotlight. Davina McCall recently presented a documentary called 'Davina McCall: Sex, Myths and the Menopause' exploring this subject. You can watch it on All4 for free
Trans Healthcare
In September 2020, Doctors at the British Medical Association's (BMA) Annual Representatives Meeting voted to support the rights of transgender and non-binary people to self-identify. They voted that under-18s experiencing gender dysphoria (where a person's gender identity doesn't match their birth sex) should be allowed to access healthcare and that trans people should be able to receive healthcare in settings appropriate to their gender.
More recently, the BMA responded to the Department of Health and Social Care Women's Health Strategy call for evidence. They noted that experience in healthcare settings and healthcare outcomes are shaped by identities and lived experiences. Negative experiences of the health and care system can be made worse for women in marginalised groups.
The BMA asked that voices of marginalised women are heard, including transgender women and non-binary people. Additionally, The BMA asked that maternity, sexual, and reproductive healthcare services use inclusive language for trans and non-binary people.
Endometriosis
According to the NHS, Endometriosis is a condition where tissue similar to the lining of the womb starts to grow in other places, such as the ovaries and fallopian tubes. It can cause heavy and painful periods as well as lead to difficulty in becoming pregnant. There are treatments available for Endometriosis however getting a diagnosis has been reported to be difficult.
In an article by Bristol Cable three women share their experience of Endometriosis and their struggle to get a diagnosis. Rhiannon was 14 when she first began experiencing painful symptoms of Endometriosis that led to her feeling sick and faint. She repeatedly visited her GP to be told there was nothing wrong with her. It wasn't until she was 27 that she was able to get a diagnosis.
We hope that you've found this issue of Healthcare As It Happens to help you learn more about more the recent updates in medicine. Next months addition will focus on Nuerodiversity. Let us know your thoughts by sending us an email at future.quest@uwe.ac.uk