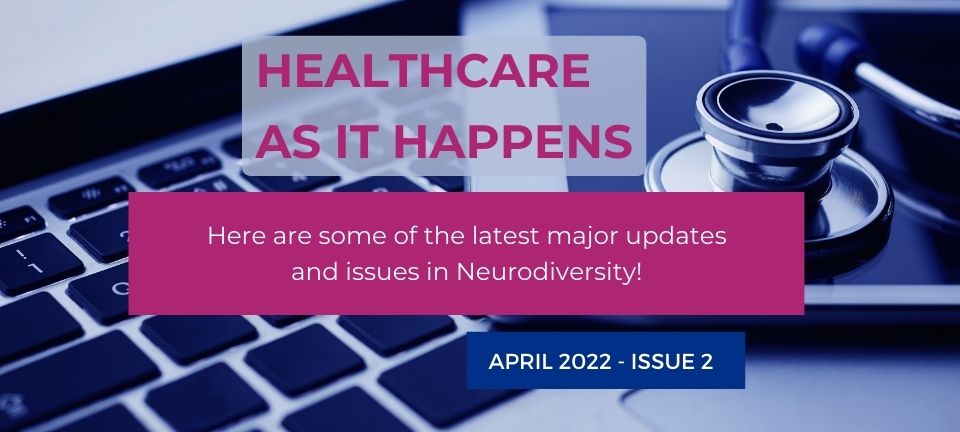 BY Colette Mackie
29 Apr 2022
Healthcare As It Happens – Neurodiversity
The term Neurodiversity was coined in the 1990s, referring to the natural differences between people with varying characteristics and behaviours of neurodevelopmental conditions.
Between 30% to 40% of the population are thought to be neurodiverse. This can include diagnoses such as ADHD, dyslexia, dyspraxia, Tourette's syndrome, and autism, to mention a few. In this month's article, we will explore the top stories to celebrate Neurodiversity Month in May.
Tik Tok promoting Neurodiversity
Neurodiversity is increasingly spoken about on social media apps such as Tik Tok that can help raise awareness. Content creators such as Connor de Wolf make short videos explaining what it is like to live with conditions such as ADHD. Connor talks about the misconceptions around ADHD, such as those living with it not having an attention deficit but an inability to regulate. Connor talks about how he will hyper-focus on hobbies or interests that raise his dopamine levels (a chemical released in the brain that makes you feel good) and can succeed in these areas. Connor jokingly suggests a more accurate name for ADHD would be Dopamine Attention Variability Executive-dysfunction or DAVE(D).
Autism is a lifelong developmental disability that affects how people communicate and interact with the world. Despite much effect being put into raising awareness for people with autism, autistic people still struggle against misleading stereotypes.
Cheryl (@_thislineismine) raises awareness on autism in her TikTok videos. Videos such as 'How I Experience Heathrow Airport as an Autistics Person', explaining why wearing a sunflower lanyard lets the staff know a person has a hidden disability, giving them the correct assistance and not lead them to be anxious and overwhelmed by the experience. She also gives tutorials on making sensory bottles, an effective learning tool for people with autism to help their cognitive, emotional, physical, social and communication development. She also talks about the 'Negative things we've been told about being Autistic', dispelling negative stereotypes and talking to users about what it is like to experience the world as an autistic person, making listeners question current thoughts on autistic attributes.
New experimental drug to reduce Tourette's tics by 30%
Tourette Syndrome is a neurological condition that causes people to have 'tics'. Tics can be sudden twitches, movements, or sounds that happen repeatedly. People who have tics cannot stop their bodies from doing these things. For example, a person might keep blinking over and over.
New research released on March 30th 2022, has shown that using an experimental drug called Ecopipam can decrease tics severity by 30%.
In this preliminary study, researchers assessed 149 children and teens (aged 6-17 years) with Tourette's syndrome, giving 75 the experimental drug ecopipam and 74 the placebo. Results showed that, on average, the experimental drug decreased tic severity by 30% within the 3 months, compared to taking a placebo.
"Our results are exciting because they suggest 0045copipam shows promise as a treatment for reducing the number, frequency and severity of the tics young people experience with Tourette syndrome," said study author Donald L. Gilbert, MD, of the Cincinnati Children's Hospital Medical Centre in Ohio. You can find out more about this headline in this Science Daily article.
Microsoft Office features to increase accessibility
Dyslexia is a neurodivergent learning difference that can affect reading and writing. It affects approximately 10% of the UK population according to the British Dyslexia Association.
Microsoft 365 has introduced several improvements to support people focus on their work and effective reading and writing in those with dyslexia.
Firstly, they have addressed those persistent notifications can be a huge source of distraction in a remote working environment. Microsoft received comments from neurodiverse customers about needing new ways to control the flow on Microsoft Teams. To address this, they have added a way to customise and reduce notifications, allowing customers to configure their activity feed and mute notifications. In addition, they have included features that allow you to hide your own video in meetings, customise chat density and blur your background, all proven ways to reduce distractions.
Microsoft have also added additional writing and proofing tools to support and expand their customers capabilities. Firstly, text prediction and suggested responses, this can help reduce errors by simplifying the writing process, allowing users work more effectively.
They have also addressed that audio tools can help a broad range of users – for those with dyslexia, it can reduce errors, and for those with ADHD, voice inputs can help to capture thoughts in the moment and stay in the flow. They also improve access for those with vision and motor disabilities, those facing temporary limitations like trying to work while holding a child, and many more.
Neurodiversity and the built environment
During the pandemic, many of us have found great relief working from home and avoid working in buildings where the lighting and the noise can overload the senses. Something that is especially difficult for some neurodivergent people.
The UK National Standards Body, BSI, are now taking this into account and making public spaces easier for everyone to access. New building guidelines 'Design for the mind – Neurodiversity and the built environment – Guide' provide information for architects on particular design features that can make spaces inclusive, addressing sensory design considerations including lighting, acoustics, flooring and décor.
The University of the West of England (UWE)'s most recent building, the School of Engineering, has been designed alongside these guidelines, ensuring a support environment for students from under-represented background. This includes study spaces design to support students with sensory issues, such as autism, including features such as white noise bubble tubes and adjustable, muted lighting.
You can find out more about this headline in this All In The Mind episode on BBC Sounds.
Dyslexic thinking added as a skill on LinkedIn:
In addition to its many other listed skills, LinkedIn now cites 'Dyslexic Thinking' among the talents its users can claim. The label has also been added to Dictionary.com, defining the term as 'strengths in creative, problem-solving and communication skills' in hopes to destigmatize outdated thinking to dyslexia, as an obstruction to employment.
This is due to the efforts of the global charity, Made By Dyslexia. Their mission is to help the world understand, value and support dyslexia, which can influence up to 1 in 5 people learn and process information. The founder of Made By Dyslexia, Kate Griggs, said: "Our research has demonstrated that dyslexic thinking skills, such as creativity, problem-solving and leadership, are vital to the 21st century workplace". In this promotional video, created by Made by Dyslexia, featuring its patron Sir Richard Branson, people with dyslexia explain how their dyslexic thinking have helped them simplify complex ideas, strip away unnecessary details, creating clear and concise messages. This video supports the message that dyslexic thinking is something that should be celebrated.
Source: YouTube - Made By Dyslexia
Now that you are more up-to-date on the news around Neurodiversity in Healthcare, don't forget to read through our previous issue of Healthcare As It Happens. If you are interested in becoming a Medical Professional and have a really varied career, our A Day In The Life series will help you to learn more about medical careers and what to expect when you join the NHS.