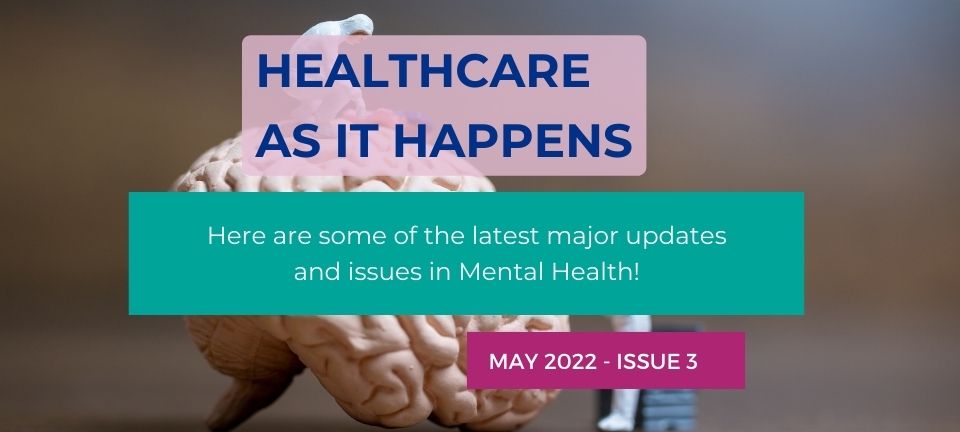 BY Waqas Qaimkhani
27 May 2022
Healthcare As It Happens - Mental Health Awareness
With Mental Health Awareness Week taking place from 9-15th May 2022, May's issue of Healthcare As It Happens is focusing on issues and updates in Mental Health. We have picked five mental health stories to help keep you up to date with the fast-changing world of healthcare.
Swift Mental Health Support for Students
A record 650,000 children and young people were in contact with mental NHS health services over the last year – up from 534,000 compared to before the pandemic. With the rising demand, the NHS have fast tracked mental health support for millions of pupils. NHS England mental health support teams are now in place in around 4,700 schools and colleges across the country, with 287 expert teams offering support to children experiencing anxiety, depression, and other common mental health issues. The acceleration of mental health support teams in schools is only one part of a wider package of NHS support that will be on offer to children and young people as they come to terms with the impact of the pandemic. The NHS has introduced 24/7 crisis support lines, face-to-face, telephone or digital appointments so issues can be identified, and help given sooner.
For the full story, visit the NHS website.
Black people more lonely than general population
Data from the Mental Health Foundation suggests one in three Black people have experienced feelings of loneliness. That is compared to the general population where one in four had reported loneliness some or all of the time. A spokesperson for the foundation says racism and social inequality could contribute to these higher rates. It surveyed 6,000 people across the UK.
The Mental Health Foundation wants the government to reinvest in youth services. Figures released last year show council funding for youth services in London were cut in half in the 10 years since the London riots in 2011.
Marwah El-Murad, from the Mental Health Foundation, stated part of the problem is how loneliness is perceived. "Isolation and loneliness are two very different things. "It's not a level playing field and inequality needs to be at the forefront when we're talking about mental health,"
You can find out more about this headline on the BBC website.
Aardman Animate for Mental Health
Aardman Animations has joined forces with London School of Economics (LSE) for a campaign to encourage young people to become more aware of factors that may be having a negative impact on their mental health and wellbeing. The short films are aimed at people aged 17-24 and has been co-developed with the young audience it sets out to support, ensuring the content is relevant to the challenges to mental wellbeing they face. The series is called 'What's Up With Everyone?' and contains short films for the following categories: loneliness, perfectionism, competitiveness, independence and social media.
Dr Thomas Curran, Assistant Professor in the Department of Psychological and Behavioural Science at LSE and contributor to the project, said "In a challenging time, when youth mental health is sadly worsening, these films are sorely needed. We tell young people's stories through the narrative of their own experiences. We hope that in them young people can find solace, community, and education."
For more details, visit the LSE website.
LGBTQ+ Psychiatrists Face Hostility At Work
Nearly half of LGBTQ+ psychiatrists have experienced hostility at work because of their identity, according to a survey. The study by representative body the Royal College of Psychiatrists found that 48% of respondents said they had received negative treatment because of their sexuality or gender identity. The amount facing abuse was higher for LGBTQ+ psychiatrists from Black, Asian, and other minority backgrounds. The report found 58% had experienced bullying, harassment and microaggressions.
Dr Pavan Joshi, who chairs the college's rainbow special interest group, said nobody should be bullied because of their identity. "Like racism, LGBTQ+ discrimination can be subtle and disguised." "Discrimination against LGBTQ+ people will continue unless we each speak up and call it out.
To read the full story, visit the Guardian website.
Reform to the Mental Health Act
Government plans for changes to the Mental Health Act 1983 as a study has highlighted the challenging experiences for family members of people detained. The research, conducted by social work and legal experts at the universities of Bath, Bristol, and Plymouth, analysed the experiences of family members who have acted as the 'Nearest Relative' in Mental Health Act assessments. These are people who have been entrusted to safeguard the interests of a person detained under the Mental Health Act 1983 (MHA).
Through the Mental Health Act 1959, the Nearest Relative role was introduced. This role gives specific family members rights and powers during a Mental Health Act assessment, in which a person with a mental health problem may be detained against their will. This nearest relative role has been controversial because patients are not able to choose who they would like to act on their behalf. Latest figures, for 2020/21, suggest that 53,239 people are recorded as having been detained in this way in the UK. This includes individuals with severe mental health conditions such as psychosis, serious depression, or dementia.
Professor Judy Laing from the University of Bristol Law School said: "While we support the Government's plans to introduce a new nominated person role, this will not solve the problems which relatives experience. Appropriate training and targeted emotional support needs to be offered to people undertaking the role so that they can carry it out effectively."
Read through the research on the University of Bristol website.
Now that you are more up to date on the news around Mental Health in Healthcare, don't forget to read our previous issue of Healthcare As It Happens. If you are interested in becoming a Medical Professional and have a really varied career, our A Day In The Life series will help you to learn more about medical careers and what to expect when you join the NHS.